A Quiet Revolution Playlist Song 11
Who is familiar with Crossroads? Not specifically the song, or the movie, but the general meme? The idea that, if you go to a crossroads, you get a chance to make a deal with the devil?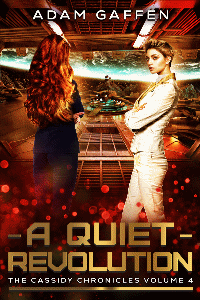 That's the theme tying today's song and chapter together.
We have Take Me Down by The Pretty Reckless for the song, and the chapter is all about the Federation actively stepping over to the side of 'take down the Primus.'
For an organization that didn't want to get into politics, plotting steps they can take to overthrow a government is a bit of a switch, isn't it?
Don't forget, you can win all four books, paperback, autographed, and you can pre-order the Kindle version for half price!